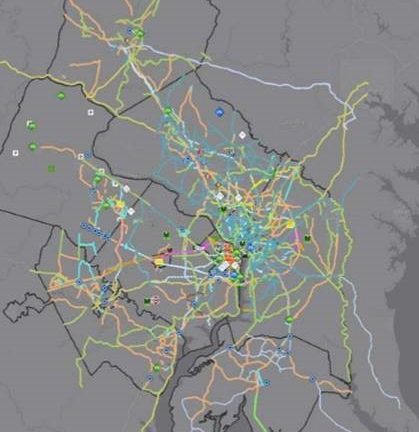 Regionally Significant Long-Range Planning?
Can The Nation's Most Congested Region Create a Regionally Significant Long-Range Plan?
As the federally designated metropolitan planning organization for the Washington, DC region, the National Capital Region Transportation Planning Board (TPB) is tasked with coordinating regional transportation plans and creating a regional "vision."
Despite this designation it has been decades since the TPB has produced a plan that rises to the level of being regionally significant.
At the urging of its Citizen Advisory Committee, the Alliance and others, the TPB has begun to develop a new long-range plan to better address regional transportation needs.  We applaud this initiative.
The first phase tested 500-plus unfunded highway, transit, and bike/pedestrian projects on local plans.  (You can see a map of all these projects and the analysis.)
The next phase will develop and test a smaller list of regionally significant multi-modal improvements.
And herein lies the real challenge. Some inner jurisdictions insist that list consist of a select number of projects nominated by individual localities. Other jurisdictions, where TPB data shows most future growth will occur, are advocating for a bigger picture approach that test new Potomac River bridges and other investments that connect and benefit multiple localities and the entire region.
In short, the region's ability to again have a long range regional plan focused on those investments which most improve regional mobility will depend upon whether its official planning body can summon the political will to fulfill its regional responsibility or continue to be a collection of local jurisdictions promoting largely local agendas.
Stay Tuned.
And, When Asked, Get Involved