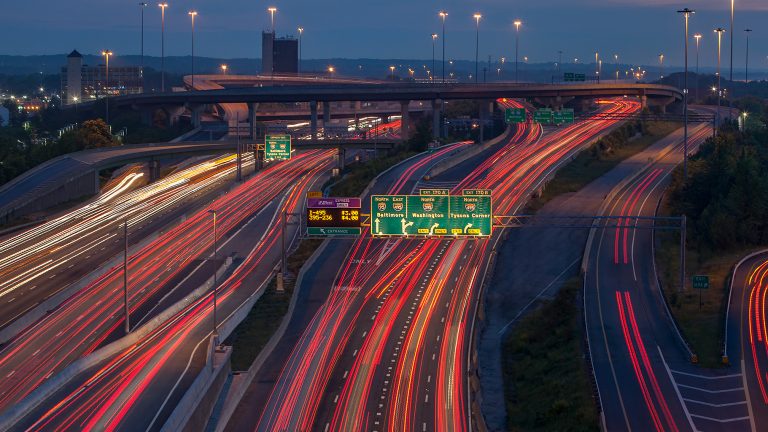 Our History
In 1987, Northern Virginia was at a crossroads. Anti-growth forces were poised to stop major transportation projects in the name of "controlling growth." A small group of business organizations and private citizens met in early 1987 to discuss and reach consensus on what could be done to ensure that urgently needed transportation priorities were advanced, the region's economic prosperity enhanced and quality of life protected.
The result was the Northern Virginia Transportation Alliance. Its founding members included the Apartment and Office Building Association, the Associated Builders and Contractors, the Fairfax County Chamber of Commerce, the Greater Washington Board of Trade, the National Association of Industrial and Office Parks, the Northern Virginia Association (formerly Board) of Realtors and the Northern Virginia Building Industry Association.
Through a major effort that included in-depth research on the failure of past transportation policies and an extensive program of newsletters, a speakers bureau, and television and radio ads focused on a progressive transportation agenda, the Alliance shifted public policy from what could be done to stop previously-planned projects to what improvements must be fast-tracked to support the region's economy and quality of life in the 1990s.
What followed was an aggressive effort that put in place the major transportation projects—Fairfax County Parkway, Prince William County Parkway, Route 28 and I-66 widenings, the Dulles Greenway and Virginia Railway Express—that supported the region's unprecedented economic prosperity and quality of life advancements in the 1990s.
More recently, the Alliance has been instrumental in advancing the Woodrow Wilson Bridge replacement, Maryland's Intercounty Connector, Dulles Rail, the I-95 Fourth lane between the Fairfax County Parkway and Route 123, I-495 and I-95/I-395 Express Lanes, a new Bi-County Parkway connecting Loudoun and Prince William Counties and widening I-66 inside and outside the Beltway. The Alliance continues to champion construction of new Potomac River crossings and a Western Transportation Corridor connecting I-95 in the Fredericksburg area with Washington Dulles International Airport.
It also supports providing the power and rolling stock necessary to operate 8-car Metro trains throughout its system.
In 2013 the Alliance led the successful fight to secure new, long-term, dedicated state and regional transportation funding and leads a coalition of more than 20 major Northern Virginia business organizations dedicated to advancing transportation investments of great regional significance.