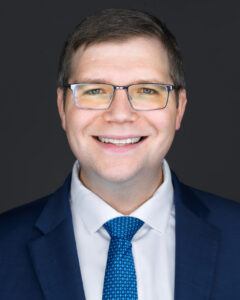 Jason Stanford – President
Jason Stanford is the President of the Northern Virginia Transportation Alliance. He oversees the day-to-day operations of the Alliance including long-term planning, transportation policy analysis, advocacy, and community outreach.
Before leading the Alliance, Jason spent six years and seven legislative sessions as the Chief of Staff to a member of the Virginia House of Delegates. During that time, he worked on numerous public policy issues including multimodal transportation, small business economic development, sustainable energy infrastructure, and housing affordability.
Jason is focused on applying his experience in the Virginia General Assembly to unite regional stakeholders and prioritize key transportation projects that will keep our region moving forward for decades to come.
Jason earned his bachelor's degree in Political Science from the University of California, Berkeley.

Carlos Heard – Chair of the Board of Directors
Carlos L. Heard is Senior Vice President and Chief Financial Officer of Saul Centers, Inc., a Bethesda-based real estate investment trust trading on the NYSE.
Prior to his role as Chief Financial Officer at Saul Centers, he most recently served as Senior Vice President of Acquisitions and Development with the B.F. Saul Company and Affiliates.
Previously, he served in a variety of positions at Chevy Chase Bank from 1998 to 2009, ultimately as a Group Vice President of commercial real estate, managing a commercial real estate lending team focused on both national REITs and regional developers.  He also launched and managed a commercial interest rate derivatives business line.
Prior to Chevy Chase Bank, Carlos gained analytical experience with the Federation of European Stock Exchanges in Brussels, Belgium and as an economist for the U.S. Army Corps of Engineers in Anchorage, Alaska.  He serves on the board of the Southeast Fairfax Development Corporation and is an active member of Nareit.
Mr. Heard holds B.A. degrees from Goucher College in Economics and French and an M.S. degree in Real Estate from Johns Hopkins University.

Robert O. Chase
Bob Chase is president emeritus of the Northern Virginia Transportation Alliance, a 1,000 member business-citizen coalition formed in 1987 to promote greater citizen awareness of and involvement in regional transportation issues.
He has been an active participant in many regional planning and advisory organizations including the Citizens Advisory Committee of the National Capital Region Transportation Planning Board, the Citizens Advisory Committee to the Metropolitan Washington Council of Governments Metropolitan Development Planning Committee, the Policy Advisory Committees of the Fairfax and Loudoun County Chambers of Commerce, the Greater Washington Board of Trade Transportation and Environment Committee, among others.
During the past three decades, Mr. Chase and the Alliance have played a major role in advancing numerous regional transportation priorities/projects in the metropolitan Washington area including the Fairfax and Prince William County Parkways Bond Referenda, Woodrow Wilson Bridge, I-66 improvements, Western Transportation Corridor, Techway, Virginia Railway Express, Dulles Greenway and Route 28 Transportation District.
Mr. Chase is a graduate of Brown University.
---
Other Members
Officers
Maggie Parker • Chair
Michael J. Cooper • Vice Chair
Russ Gestl • Secretary
James McCann • Treasurer
Scott Adams • Legal Counsel
Bob Chase • President Emeritus
Jason Stanford • President
Life Board Members
Clark Massie • TETRA Corporation
David M. Guernsey • Guernsey Office Products, Inc.
Scott Plein • EQUINOX Investments, LLC
Joe Ritchey • Transwestern
Tom Rust •  Pennoni
NV Business Transportation Coalition Representatives *
John Boylan • Dulles Regional Chamber
Debora Harvey • HCCA
Brian Gordon • AOBA
Daniel Flores • Greater Washington Board of Trade
Tony Howard •  Loudoun County Chamber
Debbie Rosenstein  • NV Building Industry Association
Charles Kapur • Greater Reston Chamber
Nick Clemente • NOVA Chamber
* The Northern Virginia Transportation Coalition is a consortium of more than twenty chambers of commerce, business and industry groups that share a common belief that greater investment in regional transportation infrastructure is essential to Northern Virginia's, and the greater metropolitan Washington area's future economic competitiveness and quality of life.
Board of Directors
Mr. Scott Adams • McGuireWoods LLP
Mr. Jim Bishoff • J2 Engineers
Mr. Bob Chase • NVTA President Emeritus
Mr. Michael J. Cooper • Metropolitan Washington Airports Authority
Ms. Mary Beth Coya
Ms. Packie Crown • Bowman Consulting
Ms. Jennifer M. Cuddy • Reed Smith LLP
Mr. Nicolas Cumings • Walsh Colucci Lubeley and Walsh, PC
Mr. Timothy Dugan • Bean, Kinney & Korman PC
Mr. Jeffrey Fairfield • Arrowbrook Centre
Mr. Daniel Flores • Greater Washington Board of Trade
Mr. Russ Gestl • Buchanan Partners
Ms. Renee Hamilton • Toll Road Investors Partnership II
Mr. Carlos Heard • B.F. Saul Company
Mr. Doug Kennedy • Pennoni Associates, Inc.
Mr. Ted Lewis • Terracon
Mr. Mark Looney • Cooley LLP
Ms. Martha Marks • NAIOP Northern Virginia
Mr. James McCann • Baker Tilly
Mr. Brent McKenzie • Transurban
Mr. Keith Meurlin • Washington Airports Task Force
Ms. Natalia Norko • WGL
Mr. Garry Palleschi • Shirley Contracting Company, LLC
Ms. Maggie Parker • Reston Community Center
Mr. Sherman Patrick • Compton & Duling
Mr. Jon Peterson • The Peterson Companies
Mr. G. Evan Pritchard • Cozen O'Conner
Ms. Marie Purkert • christopher consultants now IMEG
Mr. Michael Rayl • ECS Mid-Atlantic LLC
Mr. David Riemenschneider • Vulcan Materials Company
Mr. John Roddy • William A. Hazel, Inc.
Mr. Brendon Shaw • Dominion Energy
Ms. Nancy Smith  • I-66 Express Mobility Partners
Mr. Jason Stanford • NVTA President
Mr. Kurt Thompson • Dewberry
Mr. Jack Vega • Claude Moore Charitable Foundation
Mr. Josh Veverka • Northern Virginia Association of Realtors
Mr. David White • Superior Paving Corporation
Mr. John Williams • Bechtel
Mr. Charlie Windle • Luck Stone
Mr. Matthew Wissman • Hilton
Mr. Truett Young • Stanley Martin Homes