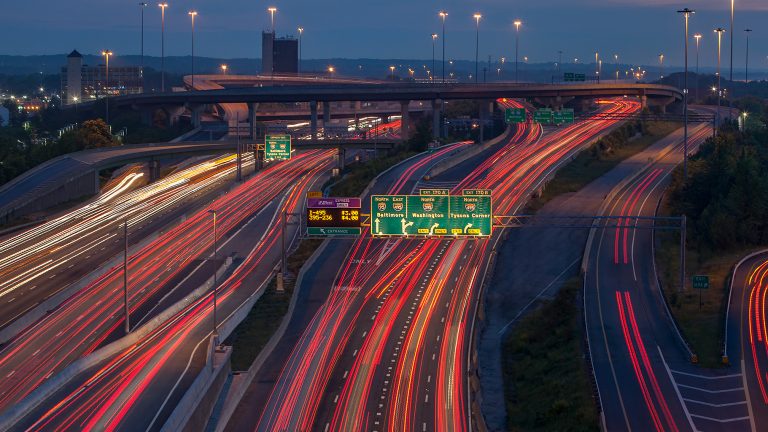 The true measure of an organization is not simply what it favors, but what it gets done.
Since 1987, the Alliance has been a positive, non-partisan force for advancing performance-based, regional transportation solutions. The following is a list of the Alliance's major accomplishments.
New Funding
The Alliance is acknowledged as the leading force in the sustained multi-year effort that in 2013 produced historic new levels of regional and statewide transportation funding.
Dulles Rail/Silver Line:
Phase I: East Falls Church to Wiehle Avenue opened in July 2014.
Phase 2, Wiehle Avenue to Route 772 in Loudoun County is scheduled to open in 2019.
I-95 Express (HOT) Lanes
This 28-mile high occupancy/toll facility opened in late 2014, adding additional capacity from I-495 to the Prince William Parkway and extending lanes south from Dumfries Rd/Exit 152 (Prince William Co.) to Garrisonville Rd/ Ext 143 (Stafford Co.).
I-495 Express (HOT) Lanes
This 14-mile high occupancy/toll facility opened in 2012.
Woodrow Wilson Bridge Replacement
The Alliance was a major participant in studies, hearings, policy-formulation and private sector mobilization that resulted in successful efforts to fund a replacement. The first new section opened in June 2006. The second span opened in June 2008. The Federal Highway Administration recognized the Alliance's contribution at the dedication of the second span.
Intercounty Connector (MD 200)
This 18-mile, limited access roadway connecting I-270 in Montgomery County and I-95 in Prince George's County opened in 2011 and is a major upgrade to the region's transportation network.
I-95 4th Lane
This lane expansion between the Fairfax County Parkway and Route 123 in Prince William County opened in September 2011.
I-66 Inside the Beltway
A new westbound third lane between Fairfax Drive (Ballston) and Sycamore Street opened in December 2011. A similar westbound widening between Washington Blvd and the Dulles Connector road is scheduled to open in late 2015.
Route 28 Funding and Widening
The Alliance championed creation of a special transportation tax district to expedite the widening of Route 28 from one lane in each direction to three and the conversion of ten signalized intersections to grade-separated interchanges.
Commuter Rail Service (Virginia Railway Express)
The Alliance was an early champion of the Virginia Railway Express system that started service in 1992 and today operates 29 trains and 18 stations and carries over 20,000 passengers per day.
Comprehensive Regional Planning & Prioritization
The Alliance called for and supported the 1989 Subregional Planning Process and that Plan's 2000 and subsequent updates. The Alliance believes that the Northern Virginia Transportation Authority TransAction 2040 Regional Transportation Plan lacks the necessary top-down, performance-based project selection and prioritization criteria. The Alliance was instrumental in General Assembly passage of legislation requiring the Authority to assign highest priority to projects determined to do the most to reduce traffic congestion.
Dulles Corridor Widening and Extension
The Alliance was in the forefront of efforts to widen the Dulles Toll Road and build the Dulles Greenway.
Fairfax County Parkway
One of the Alliance's most important original priorities, the Parkway is major regional north-south corridor that has since been improved by construction of several new grade-separated interchanges and has helped transform Fairfax County from a bedroom community into one in which most county residents now work in the county.
Fairfax County Parkway and Algonquin Parkway Alignment
The Alliance was instrumental in changing local plans to bring these two parkways into a common alignment.
I-66 Outside the Beltway
The Alliance underwrote preliminary planning costs of an early 1990s study that resulted in widening I-66 from four lanes to six (plus operational shoulder lanes) between the Beltway and Route 50. The Alliance strongly supports additional widening including managed lanes for HOV and Express Bus.
I-66/Route 29 Gainesville Interchange
The Alliance has been a long-term supporter of this interchange which was completed in summer 2015.
Metrorail
The Alliance supported completion of the original 98-mile system  and was the first private sector organization to call for a sustainable new regional/federal funding source that has been secured. It also was a strong supporter of reform of the Metropolitan Washington Area Transit Authority's governance structure to make it more professional and less political. The Alliance strongly supports the purchase of additional cars to enable 8-car trains throughout the system.
Northern Virginia VDOT Office
Believe it or not, in 1987 VDOT's District office was located in Culpeper. Today and for the last 20 years, thanks to the Alliance's persistence, it's in Fairfax County.
Prince William County Parkway Funding and Construction
The Alliance was a major force in the 1988 county bond effort that funded and built this facility years ahead of schedule. The Alliance is currently leading efforts to extend the Parkway/Route north to US Route 50 in Loudoun County as part of the Bi-County Parkway.
Regional Bypass Studies (Western and Eastern)
The Alliance was instrumental in advancing Eastern and Western Bypass studies in the late 1980s and in supporting successful completion of the Western Transportation Corridor Major Investment Study in 1997. The Alliance continues to champion these facilities which studies continue to show serve an essential function in diverting traffic off I-95 and improving access to Washington Dulles International Airport, BWI/Thurgood Marshall Airport and the Port of Baltimore.
Additional Resources
Transportation planning is dispersed at multiple levels (state, regional, sub-regional, and local) and further by mode of travel. No one entity or level has ultimate responsibility for planning. More about transportation planning in the DC Metro Area.