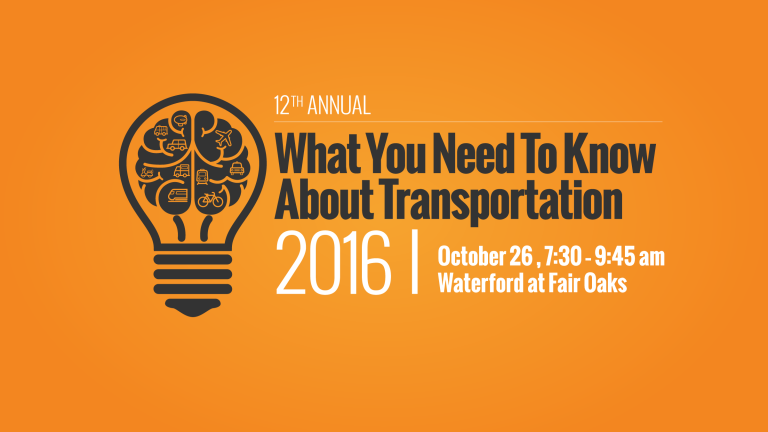 Find Out What You Missed (or "Need to Know")!
What You Need to Know About Transportation Seminar
Speaker Presentations Now Online
On October 26th, the Northern Virginia Transportation Alliance hosted its 12th Annual What You Need to Know about Transportation Seminar. The theme was Planning Our Region's Future with the focus on what's being done and needs to be done transportation-wise to ensure Virginia and the Washington Metropolitan Region remain competitive in the future. Attendance exceeded 250 including many state and local officials.
Featured speakers and topics:
The Honorable Aubrey L Layne, Jr, Virginia Secretary of Transportation – Virginia's Transportation Path Forward
The Honorable Marty Nohe, Chairman, Northern Virginia Transportation Authority – How Our Regional Tax Dollars Are Being Spent
Jim Corcoran, Board member, Washington Metropolitan Area Transit Authority – Key Building Blocks to Restoring Metrorail to World Class Status
Doug Allen, CEO, Virginia Railway Express – The Next 25 years: Challenges and Opportunities for VRE
Kate Mattice, Executive Director, Northern Virginia Transportation Commission – Regional Express Bus – How Realistic, How Soon?
Helen Cuervo, District Administrator, VDOT Northern Virginia – Key Northern Virginia Projects and Maintenance Update
View the speakers' presentations here.
Thank you to all our program sponsors and attendees!
Program Benefactors
 Program Patrons
Howard Hughes Medical Institute/ Janelia Research Campus
Metropolitan Washington Airports Authority