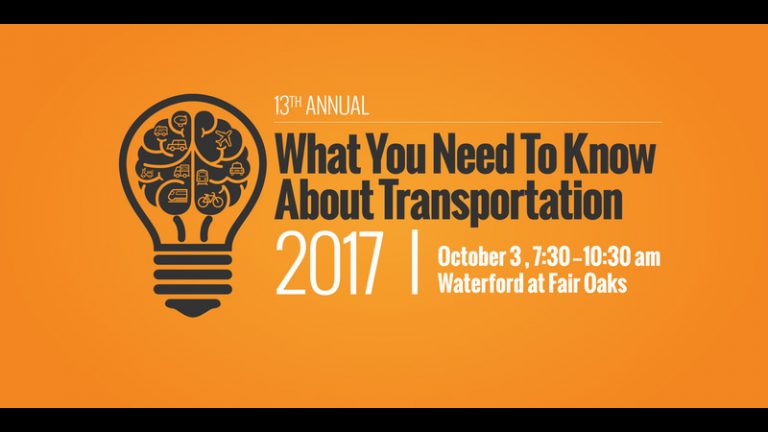 Speakers Announced! Be a Know it All!
Be a Know it All!
13th Annual
What You Need to Know About Transportation
Program and Breakfast
Tuesday, October 3, 2017
7:30 a.m. – 9:45 a.m.
Waterford at Fair Oaks
12025 Lee Jackson Memorial Highway
Fairfax, VA 22033
This year's event, part of our 30th Anniversary year celebration, will provide important insight on bridge, transit and road investments and other elements critical to the region's future multi-modal transportation network.
Topics and Speakers:
Virginia's Transit Funding Crisis – Jennifer Mitchell, Director, Virginia Dept. of Rail and Public Transportation
What's Next: Key Projects Coming Online – Helen Cuervo, VDOT NV District Engineer
Mega Project Update: The I-66 Fix – Susan Shaw, VDOT Regional Transportation Program Director
What's New:Northern Virginia's New Regional Plan – Martin Nohe, Chairman, Northern Virginia Transportation Authority
What's Required for Metro to Survive: Christian Dorsey, WMATA Board Member
How Autonomous Vehicles and Other Technology Will Change How We Travel – Richard Mudge, Compass Transportation and Technology
Registration is open.  Ticket prices are $40 for Alliance members; $60 for non-members. Breakfast included.
Sponsorships are currently available at all levels. All sponsors will receive extensive mention in event promotional materials as well as online and onsite recognition. Special seating tickets included with Sponsorship.
It is not too late to be a sponsor contact the Alliance at info@nvta.org or call 703-883-1830.
Thank you to the following generous sponsors.
Patron Sponsors
S.W. Rodgers Company, Inc.
Bowman Consulting Group
Toll Road Investment Partnerships II
Bean, Kinney, Korman
Commonwealth Consultants
Pennoni
Be Informed. Be There.
October 3rd.