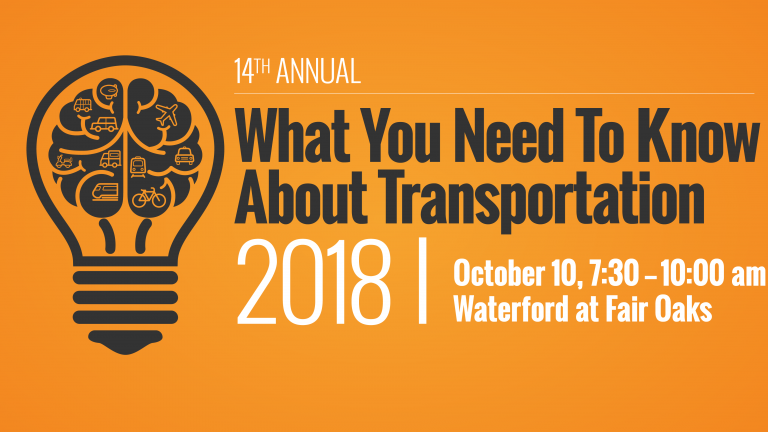 Alliance Wraps up 14th Annual What You Need to Know about Transportation Seminar
The Alliance has wrapped up its 14th annual What You Need to Know about Transportation breakfast & seminar. Thanks to our amazing line-up of transportation experts, the support of our generous sponsors and a record number of attendees, this event was a tremendous success.
The theme for this year's event was the future of regional mobility. While each of our presenters made significant contributions, Secretary Valentine stole the show with her insightful comments about the precarious sustainability of our 21st century transportation system relying on 20th century funding mechanisms.
Even though each of the speakers acknowledged the Alliance's essential voice for transportation improvements in Northern Virginia over the last 30 years – including securing new dedicated funding for transportation in 2013 – it's clear that there is still more work to do to improve mobility in our region.
Thanks to the financial support of Alliance members, sponsors, and coalition partners, the Alliance will continue to be the voice of reason, advocacy and education for transportation investments that will have the biggest impact on our quality of life and economic prosperity in Northern Virginia.
If you were unable to attend the event or just looking for a quick refresher, you can view and download the entire slide presentation here – 2018 What You Need to Know about Transportation Presentations.
Thank you again to all of our sponsors and presenters listed below!
Breakfast Hosts
NAIOP | NVAR | Peterson Companies
Saul Centers, Inc.
Benefactors
Commonwealth Consultants
Innovative Development Group
Superior Paving Corp.
Patrons
Access Point Public Affairs | A.J. Dwoskin & Associates, Inc. | Bean, Kinney & Korman
Bowman Consulting | Capital Rail Constructors | christopher consultants | Cooley
ECS Mid-Atlantic | Farms & Acreage | Fried Companies, Inc. | HHMI Janelia Research Campus
Hilton | The IDI Group Companies | JLL | Metropolitan Washington Airports Authority
Mike Garcia Construction Inc. | Pennoni | Shirley Contracting Company
Toll Road Investors Partnership II | Vulcan Materials Company
Presenters
Keynote speaker: Virginia's Secretary of Transportation – Shannon Valentine.
Additional presentations by:
Marty Nohe, Chair of the Northern Virginia Transportation Authority
Jennifer Mitchell, Director of the Virginia Department of Rail and Public Transportation
Helen Cuervo, VDOT Northern Virginia District Engineer
Elisa Bell, Director of Communications at Transurban
Javier Gutierrez, CEO of I-66 Express Mobility Partners