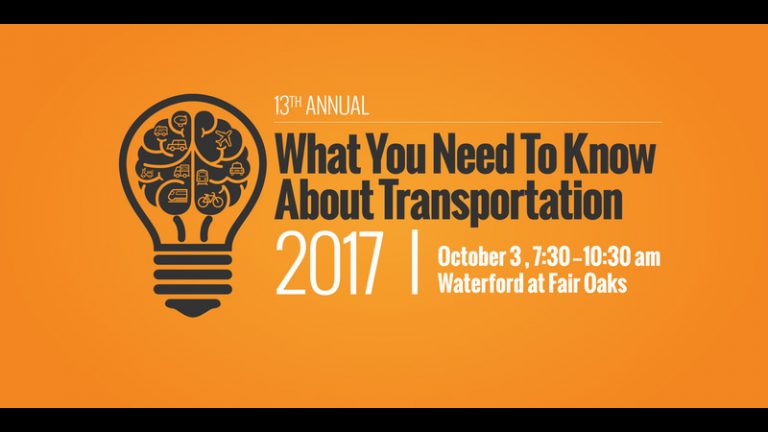 13th Annual What You Need to Know about Transportation Program and Breakfast
It's a Wrap!
If you missed the 13th Annual What You Need to Know About Transportation – the Alliance's signature event – on October 3rd, we're sorry because you missed an outstanding lineup of speakers addressing a broad array of transportation topics in the usual rapid fire format.
The theme for this year was "Regional Progress and Challenges". Chair Evan Pritchard in his welcoming remarks recognized that this year's program was part of the Alliance's yearlong 30th Anniversary celebration and observed, "Many improvements have been made on the regions's transportation network, however, much remains to be done…(and) transportation is still the #1 concern of area residents."
The Alliance would like to thank the speakers for their excellent presentations:
Topics and Speakers:
Virginia's Transit Funding Crisis – Jennifer Mitchell, Director, Virginia Dept. of Rail and Public Transportation
What's Next: Key Projects Coming Online – Helen Cuervo, VDOT NV District Engineer
What's Required for Metro to Survive – Christian Dorsey, WMATA Board Member
Mega Project Update: The I-66 Fix – Susan Shaw, VDOT Regional Transportation Program Director
What's New: Northern Virginia's New Regional Plan – Martin Nohe, Chairman, Northern Virginia Transportation Authority
Maryland Business Community Perspective on the Northern River Crossing – Dusty Rood, Chairman, Montgomery County Chamber of Commerce & CEO, Rodgers Consulting
How Autonomous Vehicles and Other Technology Will Change How We Travel – Dr. Richard Mudge, Compass Transportation and Technology
Copies of the program slides can be viewed by clicking here.
View photos from the event here.
We want to once again thank the event sponsors:
Bean, Kinney, Korman
Bowman Consulting Group
Commonwealth Consultants
Farms & Acreage. Inc.
Janelia Research Campus, HHMI
Metropolitan Washington Airports Authority
Pennoni
S.W. Rodgers Company, Inc.
Shirley Contracting Company
Toll Road Investment Partnerships II
Finally, we would like to thank the robust audience comprised of elected officials, transportation professionals, business leaders, students and all others who attended to listen and learn!
Remember, an investment in the Alliance is an investment in the region's most effective voice for a balanced, prioritized transportation network that reduces congestion, improves travel times and supports the region's planned growth and future economic competitiveness.
Hope we see you next year!!