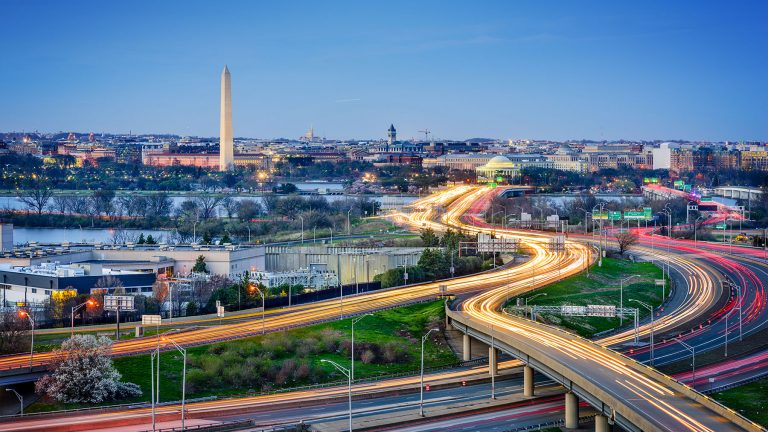 NOVA Transportation Coalition Urges Investment in Regional Multimodal Transportation Infrastructure
The Northern Virginia Transportation Alliance – along with 23 leading business and civic organizations from across the DC region – has released their 2021 transportation priorities. The Coalition urges local, regional, state, and federal policymakers to invest in our multimodal transportation infrastructure to improve our economic competitiveness, quality of life, environmental sustainability, and equitable access to opportunity.
The Coalition's top transportation investments include:
Prioritizing transportation improvements that reduce congestion and travel time, increase reliability, move more people, and promote economic growth and development
Expanding the American Legion Bridge and the region's Express Lanes Network into Maryland
Building 495 NEXT to extend Virginia's 495 Express Lanes to the American Legion Bridge
Opening and integrating Silver Line Phase 2 into the Metrorail System
Moving forward with the Long Bridge Rail Project and regional express bus service using the Express Lanes
Improving North-South connectivity between Prince William and Loudoun Counties including constructing the Route 28 Bypass and Northstar Boulevard
Restoring funding to the Northern Virginia Transportation Authority and protecting its ability to increase the capacity of our multimodal transportation network
Transportation infrastructure is an investment in our region's future. The Washington area is forecast to gain more than 1 million new jobs and residents over the next two decades. While there is currently a reduction in travel caused by the COVID-19 pandemic, this change is only due to the temporary closing of schools, businesses, and recreational facilities.
Commuters make up 20% of total trips in our area, and despite significant closures, traffic has already returned to 80% of pre-pandemic levels. As a vaccine becomes widely available and our community re-opens, we expect a return to previous travel patterns including major congestion and delays.
Investing in a regional multimodal transportation network remains key to our future economic competitiveness, quality of life, environmental sustainability, and equitable access to opportunity.