Alliance Wraps-up 15th Annual What You Need to Know about Transportation Breakfast & Seminar
Last week's 15th Annual What You Need to Know about Transportation (in Five Minutes or Less) Breakfast and Seminar was a tremendous success. Our Seminar this year was kicked off by the Alliance's Board Chair, Evan Pritchard. In his speech, Mr. Pritchard emphasized the need for our region to continue prioritizing transportation infrastructure investments and not lose the significant momentum we've gained in recent years with dedicated regional transportation funding, Metro improvements, and major highway upgrades.
Transportation Leadership Award to Marty Nohe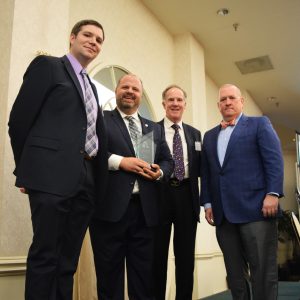 The Alliance presented its first annual Hazel Transportation Leadership Award to Northern Virginia Transportation Authority Chair Marty Nohe. The Award is in honor of two Northern Virginia giants, John T. "Til" Hazel and William A. "Bill" Hazel for their support of a regional transportation network and other initiatives that transformed Northern Virginia's economy and made the area a better place to live.
The Award was presented by Bill Hazel's son David and Til Hazel's long-time friend Bob Buchanan who provided some key insights into both gentlemen's impact including the empowerment of the next generation of leaders to shape the future of the region.
This year's inaugural awardee could not have been more deserving of the honor. Marty Nohe has been the leading voice for performance-based Northern Virginia transportation improvements for over a decade. His insight, leadership, and bipartisan coalition building skills have been instrumental in the achievements of the Northern Virginia Transportation Authority, Virginia Railway Express, and the National Capital Region's Transportation Planning Board. Supervisor Nohe's extensive transportation knowledge and expertise will be sorely missed as he moves on from elected office.
Keynote Speaker: Maryland Secretary of Transportation Pete Rahn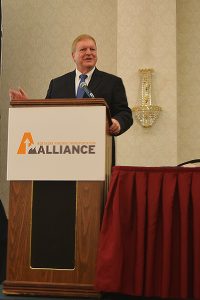 Secretary Rahn discussed the importance of Governor Larry Hogan's Traffic Relief Plan, adding two express lanes in each direction on I-270 and I-495 including the American Legion Bridge for Maryland's economic and transportation future. (See Below for Presentation)
Transportation Experts Panel
The Seminar also features an exceptional panel of transportation experts – NVTA Chair Marty Nohe, Northern Virginia Transportation Commission (NVTC) Executive Director Kate Mattice, VDOT NOVA District Administrator Helen Cuervo, and OmniRide Director of Planning and Operations Perrin Palistrant.
They each provided a concise and comprehensive update of the work that their transportation organizations have accomplished this year as well as a preview of what we can expect in 2020.
Chair Nohe previewed the next round of the Authority's funding decisions.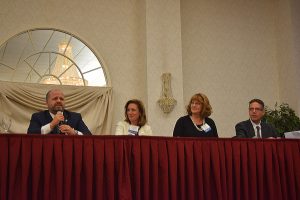 Director Mattice discussed the Northern Virginia Transportation Commission's efforts to improve, coordinate, and invest in regional transit service throughout Northern Virginia including our region's bus network.
Ms. Cuervo updated attendees on the important transportation improvements VDOT is currently working to bring online.
Mr. Palistrant gave key insights into the importance of express toll lanes to fund transit improvements and increase the reliability of our regional bus network, while emphasizing the need for more local bus service within Prince William County. (Links to each of the presentations are provided below.)
Secretary Pete Rahn Presentation
NVTC Director Mattice Presentation
VDOT NOVA District Administrator Cuervo Presentation
OmniRide Director Palistrant Presentation
THANK YOU to ALL of the Northern Virginia Transportation Alliance's sustaining and event sponsors for making this event such an outstanding success!
For more than 30 years, The Alliance has been the visionary leader in advancing regional transportation solutions to create a better quality of life in Northern Virginia. That high level of education and advocacy is only possible due to the generous support of our yearly sponsors and contributors. Thank you all for empowering the Alliance to be the voice for transportation improvements in Northern Virginia.